With a 25 year track record and 500 projects managed, Richstone is often hired for residential remodeling, new home construction, and green building in the Mid-Atlantic Region.
You'll hire us because of our attention to detail, frequent communication, and understanding of complex technical concepts. You'll stay with us because of the special trust that we bring.
Recognition
---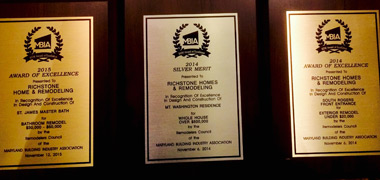 ---
Richstone won seven 2014/15/16 Remodeling Awards of Excellence and two Silver Merit Awards from the Maryland Building Industry Association for bathrooms, a wine cellar, porches/decks and laundry/mud rooms from $15,000 to $50,000 to whole house / condo apartment renovations from $300,000 to $600,000.